Jazz music festival and course in southern Burgundy – Sharing the experience
The courses are open to all instrumentalists, as long as they wish to exchange ideas and share their taste for individual expression with others as part of a group.
These workshops have always been entrusted to artists in full and recognised activity. Over the last few years, a specific workshop designed to introduce younger children (aged 7-11) to the art world has proved a great success. We plan to extend these activities to other age groups. Some 45 years ago, we developed a concert programme based on this founding proposal, which has always been a faithful reflection of living creation in France, Europe and sometimes beyond.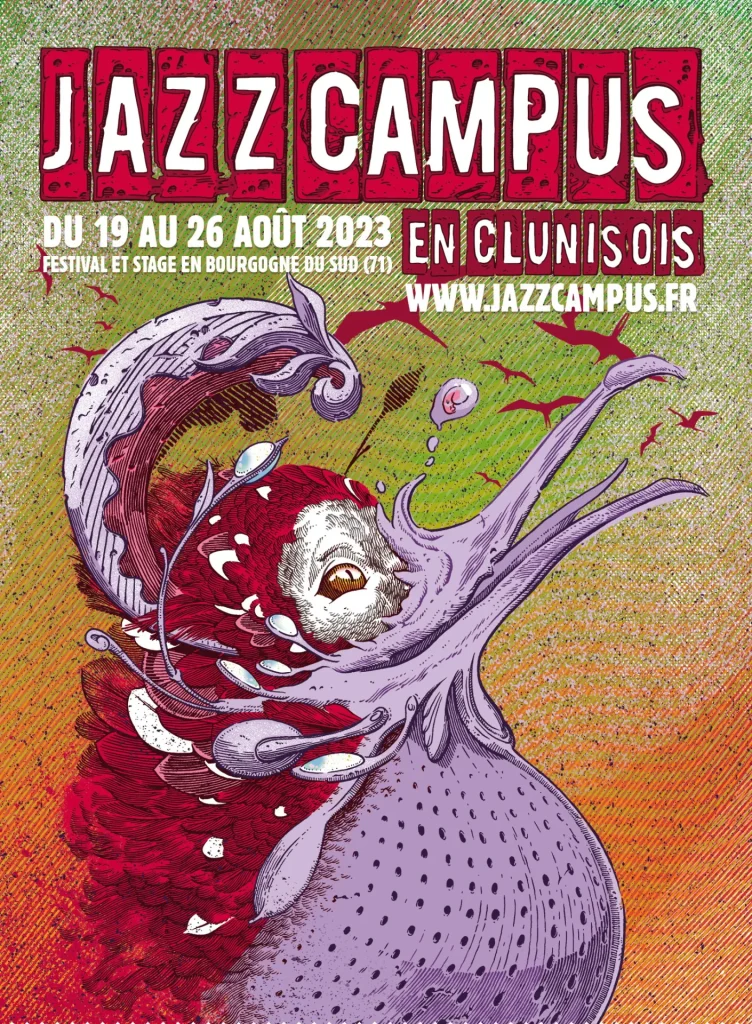 These concerts, held at emblematic venues in Cluny's heritage (the Abbey, Theatre, Parc Abbatial, Écuries Saint-Hugues), present a complete panorama of the tremendous diversity of expression that the word jazz encompasses today, by inviting top-notch musicians.
Programming :
Saturday 19 August - 8.30pm – DUO - Céline Bonacina and Laurent Dehors / FARINIER DE L'ABBAYE (€13/€18)
Sunday 20 August - 8.30pm – NOE CLERC TRIO / FARINIER DE L'ABBAYE (€13/€18)
Monday 21 August - 8.30pm – THE SOURCE / THÉÂTRE LES ARTS (€13/€18)
Tuesday 22 August - 8.30pm – THE RED TREE / THÉÂTRE LES ARTS (€13/€18)
Wednesday 23 August - 10am – FRISELIS - concert for 0-3 year olds / LUDOTHÈQUE (Free with reservation)
Wednesday 23 August - 8.30pm – DEEP RIVERS / THÉÂTRE LES ARTS (€13/€18)
Thursday 24 August - 7pm – RHIZOME TRIO / FARINIER DE L'ABBAYE (€8/€12)
Thursday 24 August - 9pm – THE MAN WITH THE CABBAGE HEAD IN URUGUAY / THÉÂTRE LES ARTS (€13/€18)
Friday 25 August - 2pm to 6pm – Feedback from the workshops / ÉCURIES SAINT-HUGUES (Free)
Friday 25 August - 8.30pm – LE MATIN DES OMBRES (Part 1) + AUX ANGES (Part 2) / THÉÂTRE LES ARTS (€13/€18)
Saturday 26 August - 11am – Trainee brass band / CITY CENTRE(Free)
Saturday 26 August - 12.30pm – ROOTS TRIO / ABBATIAL PARK (Free)
Saturday 26 August - 9pm – SHABDA / THÉÂTRE LES ARTS (€13/€18)
Online ticketing :
---