Cluny, an eco-responsible destination
France's tourist appeal draws its strength from the richness of its local cultural, natural and historical heritage, which is now faced with the challenge of sustaining it. In order to ensure that the current level of tourism activity can continue and even be increased in the future, it is essential to control its economic, social and environmental development. Therefore, where necessary, a strategic change for tourism should be undertaken.
The Tourist Office is committed to its structure!
There is no longer any doubt that ecological awareness is here and it is now up to us to act to change things! But don't forget that before changing others, we must first change ourselves! Within our Tourist Office, we have therefore decided to adopt a few simple gestures that will help reduce our impact on the planet:
Objective observation of what is consumed and produced,
Just like at home... Firstly, consumption Change of lighting, heating system, purchase of consumables, switching off the lights, cleaning products, etc.
Then, as the bill drops, painlessly switch to a (REAL!) green energy supplier... and display it!

Observe the travel and choose the most appropriate mode for each trip: long distance -> train, 150km range -> car. Purchase of an electric car connected to green energy,
Working with your printer Tourism is still addicted to paper and the effort to reduce it is sometimes difficult to achieve. So at least paper PEFC and Imprim'vert of course. But we can go further: no more plastic blisters! It's very easy! And also cartons that often end up in the bin immediately upon delivery,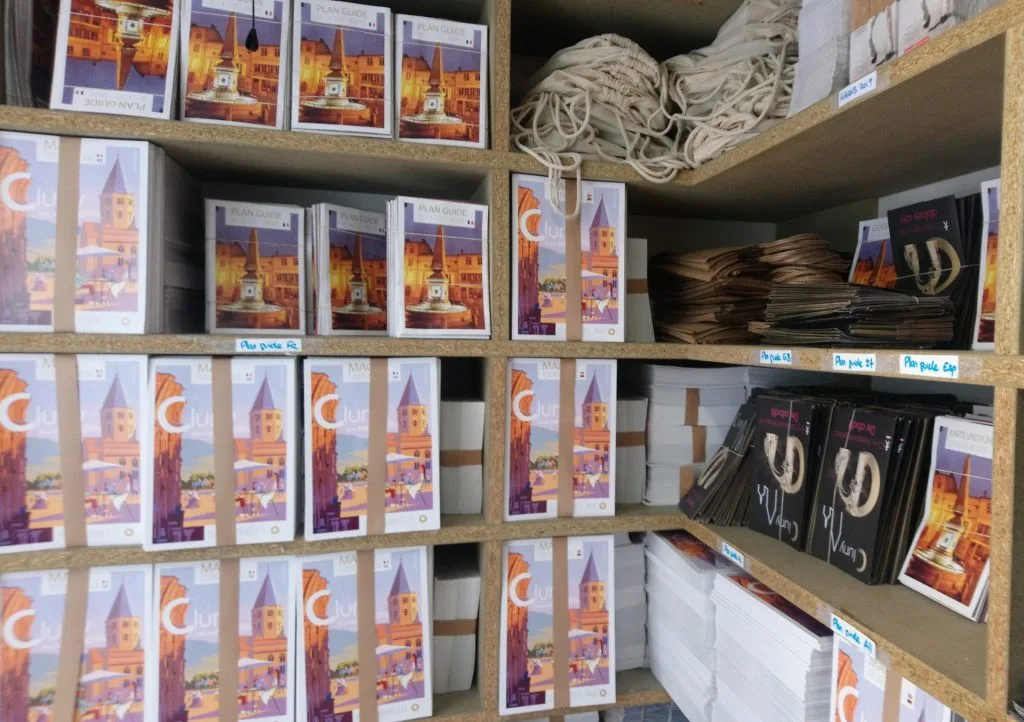 Work on the shop The progressive end of objects made outside Burgundy. We are here to sell our territories, aren't we? We talk about it and it works, increased margins! If, in addition, the local suppliers also have a strong environmental approach, it's even better. Pressure on the "usual" suppliers to ask them where their goods come from and abandon them if they do not respect our demands,
Work on the access card Promoting alternatives to the car: it's possible and it's easy,
Work within the team Newsletters are limited and e-mails are regularly deleted to avoid being stored, water bottles are replaced by reusable bottles, waste is sorted, etc.
And most recently, the eco-design of our website! With a new concept of "Collections" to avoid programmed obsolescence thanks to the continuous evolution of the site and the integration of an eco-mode that reduces the loading of multimedia content and lightens the operation of pages to make them less energy-hungry!

These may seem like small gestures, but they are still far from perfect.
Convincing visitors and providers
with oral awareness-raising among our partners,
by promoting the community's sorting instructions,
by a sheet on eco-actions on holiday for display in their holiday accommodation,
These are not exceptional gestures, but they have the merit of existing and our objective is to go a little bit further!
Eco-actions follow you even on holiday!
During your stay in South Burgundy, adopt a few simple and easy gestures that will make all the difference...