Nature is there to invite you and to love you. Immerse yourself in her bosom, which she always opens to you.
Alphonse de Lamartine, a native of our South Burgundy, describes perfectly in this quotation the natural environment in which our territory is situated: a generous and protective nature.
In addition, there is a magnificent light that already smells of the South and an incredible sense of sharing. But that's not all!

Our concentrate...
Smiling, shimmering landscapes punctuated by vineyards and gentle hills...
Prestigious radiant abbeys and authentic Romanesque churches...
Delicate rejuvenation on the banks of a lake or the Saône...
Bucolic walks, horse riding and cycling...
Discovering a preserved natural heritage...
Local production of excellence in savoury, sweet or vinified pleasures...
Meeting with brilliant star chefs to awaken the senses...
Sparkling craftsmanship...
Cultural and sporting events for all...
Friendliness everywhere...
---
It is difficult to find the sea or the mountains but it is not unusual to hear the cicadas singing in our little corner of Burgundy as soon as the fine weather arrives!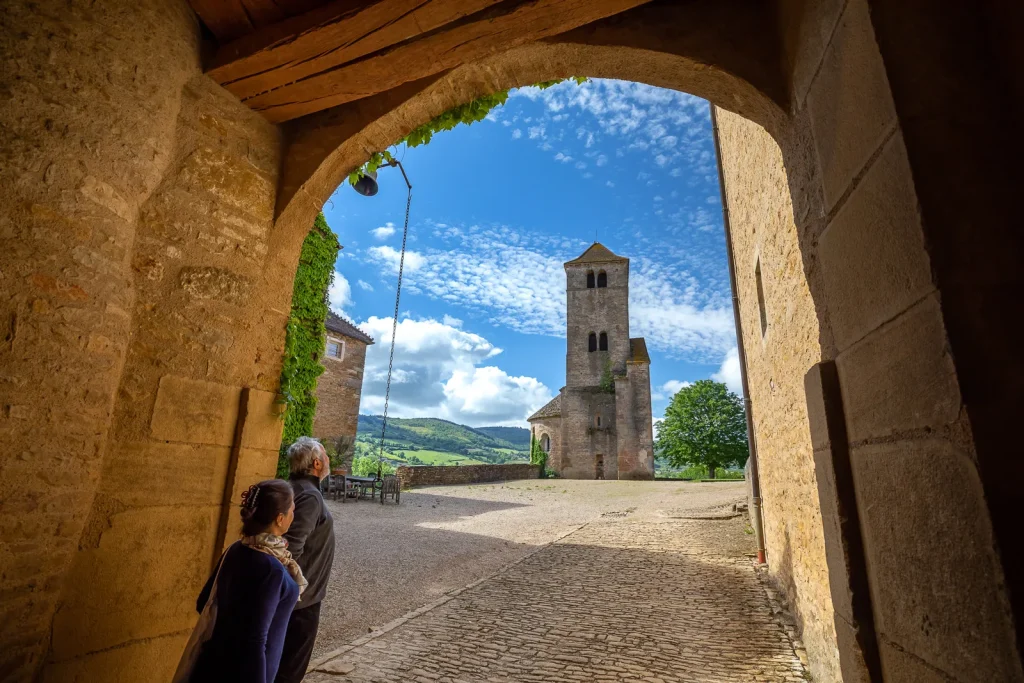 Here, harmony and serenity are the key words. Our countryside is punctuated by vineyards and sumptuous Romanesque churches with, as flagships, the abbeys of Cluny and Tournus.
You can recharge your batteries by a lake, the Saône or the Seille, perfect your historical knowledge or explore the green valleys of our territory that offer an important network of trails for all levels to be explored on foot, on horseback or by bike to discover an authentic and preserved natural heritage.
Of course, you can enjoy our famous wines while feasting your eyes on of our savoury delights such as "le Mâconnais", a PDO goat's cheese, or our sweet pleasures and their queen "la gaufrette mâconnaise". And to sublimate this local production of excellence, no less than 7 chefs have hung their star on our territory of South Burgundy.
Extend your stay...
South Burgundy is a collaboration between the 4 territories of Cluny, Mâcon, Matour and Tournus. Make the most of the destination and extend your stay by discovering the complementarities of each one which make the strength of our South Burgundy!