Are you an event organiser looking to develop your business and improve your visibility on the Internet? We're here to help you set up your online ticketing service.
Shows, concerts, courses, guided tours, admission to tourist sites, conferences, cookery classes - it's all possible!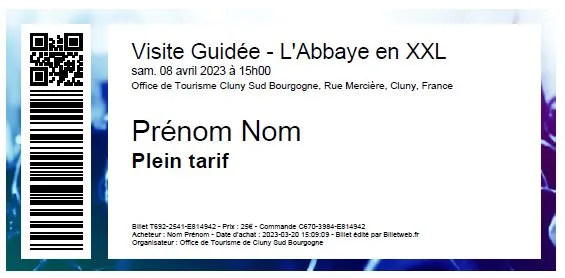 There are two possibilities with the BILLETWEB solution:
You will set up and manage your own ticketing service and open a sales counter at the Cluny Sud Bourgogne Tourist Office. Take advantage of our affiliate link: https://www.billetweb.fr/?affiliate=35462
 Or we take care of everything!
What are the advantages? :
Investment opportunities - Number your seats and divide them up according to your categories,
A personalised boutique to suit your event,
A single gauge to manage,
Gone are the days of notebooks,
Online sales and reception deskl Tourist Office
Add the sales module to your site - 100% responsive, neutral and easy to integrate,
Real-time monitoring - Keep track of the number of participants and the takings at all times,
Ready for D-Day - List your participants and scan your tickets using the control solutions available on Smartphone and PC,
Benefit from relay on the Tourist Office website. Destination Saône et Loire